Frequently Asked Questions ─
What You Need to Know
Most guests buy as much as they are permitted to pack aboard the plane at their last departure point. Contact your pilot to determine weight and size restrictions, which will be based on the number of passengers. If you are coming through Nassau, the grocery store near the airport will box your purchases. Fresh produce, canned goods, and paper products are available in Staniel Cay at The Blue Store, Pink Store or Isles General Store.
We will pick you up by boat. Transportation to and from Compass Cay is included in your rental price.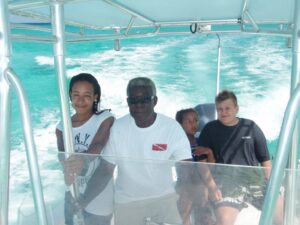 Please review the accommodation tab for details on each villa rentql
Yes, there is RO water on the island and bottled water at the Dock Store.
Yes, there are restaurants on Staniel Cay 5 miles south by boat. You can easily take your Whaler to Staniel Cay for lunch, but the boat must be back at Compass Cay by 5 PM. 
Boats, when available for guest use, a $500 damage deposit is needed if using the boat; the dockmaster will check you out on the boat and the outboard engine. The boats are rated for four people and must be back at the dock by five PM. We ask inexperienced boaters to stay close to Compass Cay while they develop their boat handling skills. The boats are for complimentary use and do not reflex in the price of your rental villa, and fuel for the boat is purchased by the user.
Bring your own equipment. Frozen bait is available locally or at the marina office. Guides are available.
Your deposit is not refundable. We suggest that you purchase travel insurance. If you have to cancel due to weather, we will keep a credit on your account for a future visit up to 18 months for original arrival date